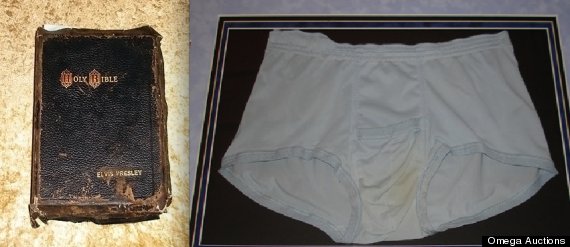 ELVIS PRESLEY - 1977 Jumpsuit Underwear.
The briefs were worn on stage in 1977 and appear to be unwashed with some stains apparent.
The following information came from the owner of the ELVIS-A-RAMA MUSEUM before he sold the museum to Graceland: "Elvis Presley`s 1977 jumpsuit underwear - this pair of light blue dance briefs was worn by entertainer Elvis Presley in 1977 while on stage. Elvis didn`t want any lines visible while he was on stage wearing his vast array of dazzling jumpsuits. This pair of underwear was obtained from the estate of Vernon Presley, Elvis` father". The underwear had been on display at the world famous ELVIS-A-RAMA MUSEUM for many years. The ELVIS-A-RAMA was later bought by Graceland and retired. The underwear was obtained by the museum owner from Hobart and Bonnie Burnette. During the early 1960`s Vernon purchased a home 1266 Dolan Dr, which is adjacent to Graceland along the southeastern wall. Elvis had a gate installed so that he could walk from his backyard directly into his father`s house. After Elvis` divorce in 1973, Elvis spent more time over there to occasionally escape Graceland and its inhabitants. Elvis would sometimes stay over late into the night talking with his father about the old days, his philosophies about life and his family. After Elvis` death, Vernon moved into Graceland and sold the Dolan home and all its contents to Holbart and Bonnie Burnette who owned the Hickory Log Restaurant across the street from Graceland.
Elvis Bible sells for £59,000 (including buyer premium)
Omega Auctions