David Goodis: Five Noir Novels of the 1940s and 50s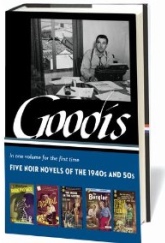 Fans of David Goodis long have argued that his moody works are worthy of more than mere cult status and should be revered on the same level as Jim Thompson, Cornell Woolrich and even the twin titans of hard-boiled crime fiction: Dashiell Hammett and Raymond Chandler.
These fans will probably be among the first to applaud Library of America's new collection of FIVE NOIR NOVELS OF THE 1940S AND 50S, pointing to it as evidence of Goodis' worthiness and rightful place in the development of American crime fiction. The rest of us should be grateful that these otherwise hard-to-find works are now available in a sturdy and comparatively bargain-priced edition.
Unlike Hammett or Chandler, Goodis didn't use detectives or similar crime solvers as his protagonists. Instead, his central figures are either petty criminals or simply members of everyday life caught in a hopelessly downward spiral.
In 1946′s DARK PASSAGE, a man named Parry is accused and sentenced for the murder of his wife. Certain of his innocence, Parry escapes from prison, assumes a new identity, and tries to find his wife's murderer while desperately keeping one step ahead of the law.
In 1947′s NIGHTFALL, commercial artist Jim Vanning only dimly recalls his involvement with the violent robbery that now has both criminals and police pursuing him.
Nathaniel Harbin, in 1953′s THE BURGLAR, leads a small group of thieves that serve as sort of a surrogate family, until he falls for a woman that might take his life in a different direction.
Walter Kerrrigan is haunted by his sister's mysterious death in 1953′s THE MOON IN THE GUTTER, and his search for the truth reveals much about his own lost dreams. Finally, 1954′s STREET OF NO RETURN focuses on a Skid Row bum who traces his decent from success as a famous crooner to destitution and loneliness.

As inventive and alluring as these plots and characters are, the real reason for reading Goodis — and perhaps why his longtime admirers have fought so long for his recognition — is the unforgettable ambience his prose style creates. A frantic, hyperintensity drives most of the narrative in DARK PASSAGE, while memories and recollections of his life flash through Parry's mind like streaks of lightning.
The utter hopelessness and destitution of those who live on the streets in cities like New York, San Francisco or Goodis's home town of Philadelphia is conveyed in most all of these novels, with expressionistic descriptions of colors, hues of light, unsympathetic weather and the endless cascade of sounds — like sirens, screams, car engines and breaking glass — that fill every moment.

At other times, the action or exchanges of the characters create immediate and accurate impressions of their plight, such as the unforgettable opening chapter of STREET OF NO RETURN, where a group of men sitting against the outside wall of a flophouse take the better part of the chapter to reaffirm what they all first thought: that they need another drink, but none of them have the money.

Interior monologues and memories are also where the author's style stands out. They not only occur at expected moments, like the opening of MOON IN THE GUTTER where Kerrigan again visits the site of his sister's death, or when the one-time crooner in STREET OF NO RETURN recalls his past shortly after waking to another dead-end day, but at unexpected times of panic, flight or extreme anxiety, as in several of the novels.
In each instance, the recollections and impressions fill several sentences and at times entire paragraphs with rapidly expressed conclusions that are nonetheless debated yet another time. Or it's something seen that the character simply can't or refuses to believe is happening. Whatever the instance, such moments add to the intensity of the story, like a snowball growing in size as it rolls downhill, even when nothing much is actually happening. And like much of Goodis' dialogue, they lose none of their strength or fervor in the passage of time since their original publication.

Editor Robert Polito, who previously included Goodis' DOWN THERE in Library of America's 1997 collection of CRIME NOVELS: AMERICAN NOIR OF THE 1950S, provides a chronology of the writer's life and career, as well as notes on the text and publishing history of each inclusion. The recent renewed interest in Goodis and his influence has resulted in several essays and books, most acknowledged by Polito in his notes on the text.
For as long as noir fiction has been discovered, rediscovered or discussed, critics have wrestled with a definition of what exactly distinguishes fiction as "noir." Yet for all these revisions, none have excluded those characteristics found in the works of Goodis. That's one of several reasons why this collection is essential reading and a must-have for any devoted reader and lover of crime fiction. —Alan Cranis